Water Pressure Booster Pumps
A water pressure booster pump is used to improve water pressure in a plumbing system.
Booster pumps also improve your plumbing system's efficiency by reducing wasted water. 
We've helped dozens of families in Chicago, and the surrounding suburbs install booster pumps to improve the water pressure throughout their homes.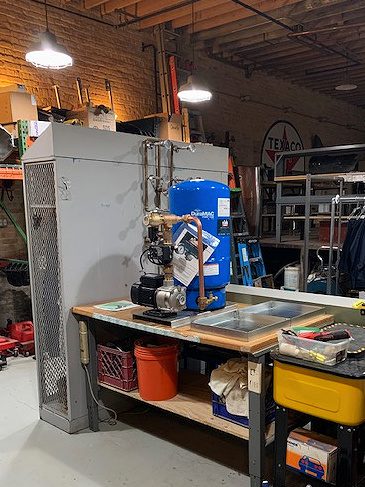 Signs You May Need a Water Booster Pump
If you notice any of the signs below, it may be time for you to consider a water booster pump.
Low water pressure (especially at higher levels of the home)

Inconsistent water temperature

Noisy pipes

Slow-filling appliances (washing machines, dishwashers)
It's important to note that every plumbing system is different. That's why anytime you suspect something is amiss with your plumbing you should call The Plumbing Department immediately so we can assess the issue and potentially prevent further damage from occurring. 
Booster Pump Installation
Whether you are adding a booster pump to your plumbing system for the first time or replacing an old booster pump that is no longer getting the job done, the fully licensed and insured plumbers from The Plumbing Department can help you select and install a new water pressure booster. We can recommend a water booster pump to fit your needs or install one you provide. 
We'll provide the following as part of our booster pump installation services: 
Install the booster pump

Install a pressure switch and gauge

Install a check valve )to prevent backflow)

Install a pressure release valve (prevents over-pressurization)

Connect booster pump to the electrical supply and test

Adjust to provide optimal water pressure and flow

Clean the work environment when the job is complete.
At The Plumbing Department, we are committed to providing our Chicago area customers with the best plumbing solutions for their needs.
The Plumbing Department for all of your Booster Pump Needs
If you're tired of dealing with weak water pressure, contact us today to learn more about our water pressure booster pump installation services. Our expert plumbers will work with you to find the best solution for your specific needs and budget!